Trail Service Projects:
The Hole-in-the-Rock Foundation is actively involved in research, trail marking, and interpretive signage. Over the last several decades, numerous Eagle Scout, youth service, family, and organization projects have been carried out at various sections of the trail. Please allow us to highlight your project by submitting images and details.
Future Projects:
Between trail marker maintenance and new marking needs, there are ample opportunities for you to have your own experience.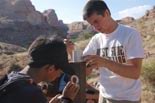 Eagle Scout Service Project Carried out in Cottonwood Canyon


For his eagle project, Tim Riser chose to stabilize, re-stain, and document the GPS location of the trail markers in Cottonwood Canyon. "My project of repairing deteriorating markers will be of great benefit to the Hole-in-the-Rock Foundation by insuring that the pioneers' passage through that area is remembered, which is clearly in agreement with the aims of the foundation. The descendants of these pioneers will also benefit... Please accept my sincere thanks to Mr. Lamont Crabtree and the Hole-in-the-Rock Foundation for the opportunity to perform this service on the historic trail." Timothy Riser. Tim was assisted by: Drew Major, Michael Frost, Michael Kokkola, Tom Fletcher, Blaine Nielsen, Jeff Fletcher, Clay Frost, Sam Major, Zach Taylor, Regan Wilkinson, Justin Liu, David Rogers, Aktar Anwarjan, Eric Kokkola, Theron Street.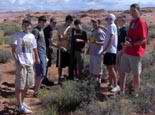 Varsity Team 625, Give Trail Markers a Face-Lift


During the week of June 5, 2008, a group of young men from West Haven, Utah, (Varsity Team 625) and their leaders visited the Hole-in-the-Rock area and explored nearby canyons in the Grand Staircase-Escalante National Monument. Their adventure included a service project on the Hole-in-the-Rock Trail. Thanks to these young men, trail markers in the vicinity received a badly needed face-lift. Markers were restained and the wagon symbols were repainted. Brad Clontz said, "I appreciated you letting us work on this. The boys learned a lot about the area and had a great time while we were there."